For the past 18 months, Groove CEO Alex Turnbull has blogged regularly about his company's journey to $500k in monthly revenue (originally, the blog documented Groove's journey to $100k MRR, a milestone they passed last year). His writing has become a must-read for entrepreneurs and a fantastically useful resource for anyone interested in growing a company.
It's also become a must-read for remote workers, because one of the things Alex writes about fairly often is his decision to hire a fully distributed team for Groove. Alex talked to Pajamas about working from home and managing a globally dispersed company.
What does Groove do and what made you decide to pursue this business?
Groove helps small businesses manage customer support better with simple help desk software. We also publish two blogs on growth and customer service that get read by 30,000+ readers each week.
I started Groove because I was tired of the bloated, complex "enterprise" help desks I had been using, and frustrated that I couldn't find anything simple that felt like it was built just for me: a small business guy who had a lot more on his plate than just answering support emails.
How many people is Groove up to now and in how many different locations?
We've got a team of nine all over the world, from Newport, RI (where I sit) to Baltimore, North Carolina, Berlin and Cape Town.
Why did you decide to hire a distributed team?
My past two companies rented office space, and frankly I didn't see a huge benefit from it. I wanted the best talent I could find, regardless of where people were based, so a remote team was a natural choice.
How do you make sure everyone feels connected?
We're in Slack all day, and not just talking about work-related stuff. You need to replace that "water cooler" element that an office provides, so there's no nudge to keep our team chat focused strictly on Groove. We'll talk about our weekends, our families, everything... it's so important to build that connection to make everyone feel like they're actually on a team, and not just working solo with their computer every day.
We also have a weekly all-hands call.
What are the biggest challenges you face working remotely and how do you overcome them?
There are two:
Hiring becomes tougher. Remote work isn't just a fact of your company, it's a very specific skill set that you need to hire for. Great employees don't necessarily make great remote employees, and not everyone has that fire to be productive without being surrounded by co-workers. Now, we only hire folks who have worked remotely before (or have run their own business).
Feeling lonely and disconnected. I think a lot of people can get a little nutty sitting alone in an office all day. I wrote about this here, but I like to make sure everyone is taking plenty of breaks and keeping themselves occupied outside of work, too. Otherwise, it's easy to crack.
What is the biggest benefit that working remotely has afforded your company?
We can hire amazing folks, regardless of where they are or whether they have families with young kids or not.
Do you think anything is lost by having the team fully distributed?
Sure. You lose that built-in culture that comes with everyone physically seeing each other every day. Then again, I've seen offices with pretty toxic cultures too.
It just means we have to work harder to build that comeraderie.
I wanted the best talent I could find, regardless of where people were based, so a remote team was a natural choice.
What sort of culture have you tried to create at Groove?
A flexible one. We don't really care what hours people are sitting at their computer, as long as the output is there. Our guys in Europe and Africa work nights. Len, our marketing guy, is married to a nurse whose shifts change all the time, and he usually works when she does. Jordan, our CTO, has a young son that keeps him busy at various hours.
As long as everything gets done, people can build the lifestyle they want.
Describe your personal work environment.
How about I show you.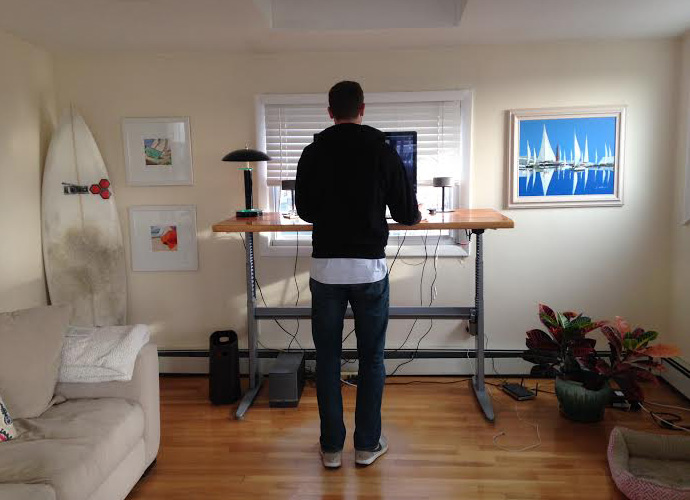 It's a standing desk in front of a window that looks straight at the beach.
How do you manage work/life balance when working from your home?
I take breaks. I walk the dog. I surf whenever I can. I do my best to turn off completely at night, although I don't always succeed.
Remote work isn't just a fact of your company, it's a very specific skill set that you need to hire for.
What do you usually wear to work?
Exactly what you see in that photo. :-)
How do you make sure you're accomplishing what you set out to accomplish on a daily basis?
We use a few different productivity tools, depending on the task. Dev stuff goes through Pivotal Tracker, marketing and design stuff goes through Trello. Everyone does a daily standup in Slack, sharing what they're working on that day (and what they did the day before). It keeps us all on the same page, and ensures that we make progress each day.
What are some of the tools you couldn't live without as a remote company?
Slack for team chat. Screenhero for screen shares. Skype for calls. Trello and Pivotal Tracker for project management.
What advice would you give to a company thinking about building a remote team?
Go for it! Do your research so that you know the challenges and can face them from day one. It's been a fantastic experience for us.