Automattic is a vanguard when it comes to fully distributed teams. As one of the most well-known advocates of remote work, the recently minted billion-dollar company now employs over 300 people, spread across dozens of countries, to support products used by nearly a quarter of all websites. (Automattic does maintain office space in San Francisco, where they have a sizeable concentration of employees, but no one is actually required to work there.)
How do they keep things flowing so smoothly without a central base of operations?
We talked to Sara Rosso, who has worked on the WordPress.com team for nearly five years from her home in Italy, about what life is like at Automattic.
Tell me about what you do at Automattic and what your team is responsible for.
My name is Sara Rosso and I work in VIP Services at Automattic / WordPress.com. I'm the VIP Global Services Manager, and the WordPress.com VIP team works with some of the largest (WordPress and non) sites out there like: TIME, Forbes, TechCrunch, New York Post, CBS Local, USA Today, and more.
Prior to Automattic, had you worked remotely before?
Yes.
When did you start working remotely? What initially drew you to life outside an office?
I started in 1998, actually! I was the first Hewlett-Packard intern to work remotely while I was back at university in Texas; they traditionally had a summer-only internship program. It was a great experiment, which went well and whet my taste for working remotely. Then when I started working for HP full-time in 2000, as part of IT Strategy we beta-tested DSL lines in our homes as a possibility for the rest of the company, and my specific team was already spread across the globe so I just worked from my home and went into the office occasionally.
How large is your team and how spread out is everyone?
Automattic is more than 300 people, and we're entirely distributed/remote, and the VIP team is more like 25 people. We're spread across the United States and Europe pretty evenly, with a few outliers. Automattic has team members in more than 200 cities and 39 countries.
How do you keep team members feeling connected?
We are constantly connected! We sign into Slack every day so it's just a quick click to reach anyone in the rest of the company. If they're offline, you can ping them anyway as they'll get a notification when they log back on, or we'll "P2 it" -- publish about the issue/question on one of our internal project and team blogs.
What are the biggest challenges you face working remotely and how do you overcome them?
You design your own day; you can destroy it, too. You can't rely on someone to tell you what to do every day, so keeping an eye on being productive is important. I have gotten into the habit of writing down 2-3 things on a post-it in the evening as focuses/tasks for the following day. This allows me to shut down in the evening better, and in the morning I've got a mini-roadmap waiting for me! It's a terrible thing to ask yourself "What do I do today?" and you shouldn't ever have to.
What benefits has being a distributed company provided Automattic?
I think first and foremost it has allowed us to find talented people wherever they are in the world. This cannot be understated. We have people living hours away from the nearest airport on farms and on mountains, one colleague who's constructing a house on an island, and a few of our team members don't even have a house but are permanent nomads and go where the WiFi is strong.
Do you think you lose anything by working remotely?
I think a lot of ideas and feeling can come from casual conversations, so it's important to figure out a way to incorporate that back into daily, weekly, monthly life in the company. We do that through our watercooler blogs and our in-person meetups, and some people go even further to do Google Hangouts for co-working and to see each other for no reason at all. Also, we make sure we incorporate our voices into regular interactions since you can get a lot from voice inflection -- most teams do a weekly audio call or video call as well, and regular 1-1s, too.
You design your own day; you can destroy it, too.
What are some of things Automattic does to make sure employees are in a good place, both mentally and operationally?
For operational, we have a home-office setup stipend which means you can outfit or equip your working space to be as productive as possible. We also have some ongoing beta programs around co-working spaces, travel upgrades, and more. The company is constantly experimenting to see what might be beneficial. In terms of mentally, I don't think we're much different than any company in that it's first and foremost up to the employee to raise their hand at a certain point and say "this is too much" or "I need help" so co-workers, team leads, and the company can react or help. We have an open vacation policy so people can take off the time they need, and regular 1-1s with your team lead should help surface dips and bumps in your mental life. I also think our HR team is one of the best and most compassionate teams out there and they are constantly gathering feedback from people through individual chats and by visiting team meetups.
What's the culture like at your company?
Wow, how to explain it? I actually asked my colleagues to explain it in one word and they said: "Collaborative. Empowerment. Ardent. Infinitesimal. Quirky. Supercalifragilisticexpialidocious. Irreverent. Spectacular. Go. Earnest. Unique. Impassioned. Kaleidoscopic. Flexible. Deploy. Creative. Scrumtrulescent. Iterative. Home. Personal."
I would add transparent and controlled chaos as well. You can see a little more about our culture here: http://automattic.com/work-with-us/ (and we're hiring!)
Describe your personal work environment.
The location changes often, but I've narrowed down what I really "need" to have an office to only a few things: My MacBook which is custom & beautiful (see below), a privacy screen which is super useful since I fly a lot, cables to Always Be Charging, headphones, and a Moleskine + pen. That's about it. I remember getting fitted for an ergonomic chair at HP, with matching wrist rests and mouse pads, and while I love the attention to ergonomic issues, I find I can be productive with a lot less things than I used to "need."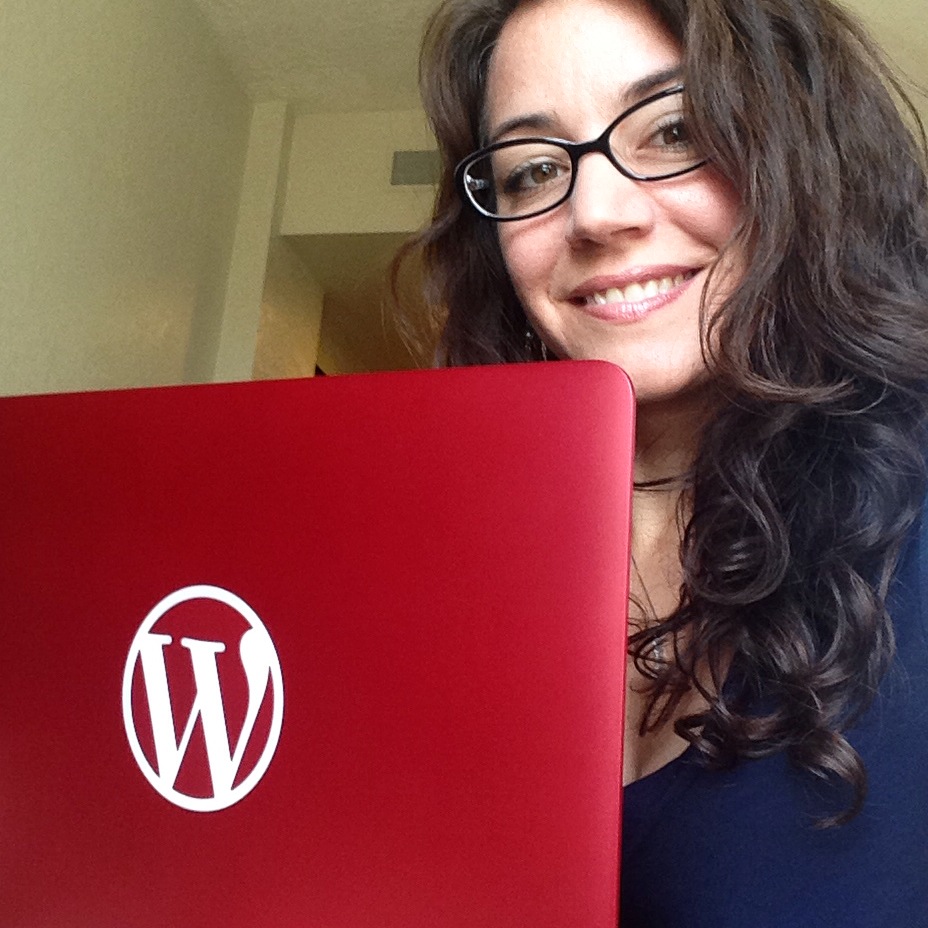 How do you manage work/life balance when working from your home?
I love espresso, so I always start the morning with a coffee, preferably out. If I'm somewhere new I find it a good excuse to get to know the neighborhood, and at the very least, this ritual makes me prepare myself to be presentable for public interaction. I rarely work in pajamas, though I could!
How do you keep distractions to a minimum? How do you personally measure efficiency?
There will always be distractions, so it's good to have habits of productivity vs. battling distractions. If you get distracted, sometimes it's best to go with it to get it out of your system -- read that article, go for that walk, have lunch or talk over the problem. Then when you sit back down, you can focus on your goals again, and you have some tools/processes/habits to help you do that, be it lists / focus tasks, etc. Working remotely I think I have started thinking about productivity on more of a rolling basis -- I want to be productive every day, but I really really pay attention to my overall productivity for the week. One bad day won't hurt, one bad week definitely will, and is a sign something's not right.
What are some of the tools you couldn't live without for working with your remote colleagues?
Slack, Trello, Skype, and all of our P2 WordPress blogs. I also love Wunderlist for lists (which I love in general), and my Moleskine for riffing on bigger ideas that can't be constrained to an action item.
What advice would you give to someone heading down the remote working path?
I think it's a great working exercise to try and it could really help you learn some things about yourself. At the very least, you'll see if you can organize your work and your daily productivity regardless of where you are. Why not try it?